Protective Perspex Acrylic

Screens
We offer a full Bespoke and Standardised Protective Perspex Screens for all environments Estate Agents, Retail, Salons, Commercial & Office spaces
Everything we do is focused on your needs and the needs of your customers. We'll work with you from start to finish to make sure we create an inspiring space that shows off the individuality and personality of your business. We'll fully project manage every aspect of the job, leaving you to focus on what you do best.
Standard Protective Perspex Screens
These are often referred to as sneeze guards, to keep staff and customers safer.
These protective screens are made from a 6mm clear cast acrylic, with chamfered edges and polished corners. They come flat packed with easy to assemble slotting feet and side panels, achieving an upright position on any desk, desktop, counter, till, checkout, cashier, and other worktop surfaces.
The standard protective Perspex acrylic safety screen dimensions are 725mm wide x 990mm high. They have a 250mm x 50mm cut out at the base to pass through any paperwork or keys to the client, within an estate agents for example. This can also be altered to suit a specific business. The slotted side panels are 200mm wide each.
Screen without the side panels - Price on inquiry
Screen with the side panels - Price on inquiry.
Whilst no job is too small, we supply national rollouts on a fixed price contract, within the timescales many other businesses would struggle to deliver.
Bespoke Protective Perspex Screens
Also known as sneeze guards, these screens form a physical barrier against coughing, sneezing and other hazards, creating a safe transaction environment for staff, customers and visitors.
We offer a bespoke service as not all protective screens are the same size or can cover the volume of space needed in some business. We can include the addition of graphics and or text. Include a custom messages such as 'Please do not touch or lean on the screen', or place multiple screens side-by-side to create a fully encompassing safety barrier.
These social distancing safety screens can be used in a variety of business environments, including retail shops, offices, hospitals and healthcare practices, banks, leisure centres, professional services, restaurants, spas, salons, bars, gyms, and more.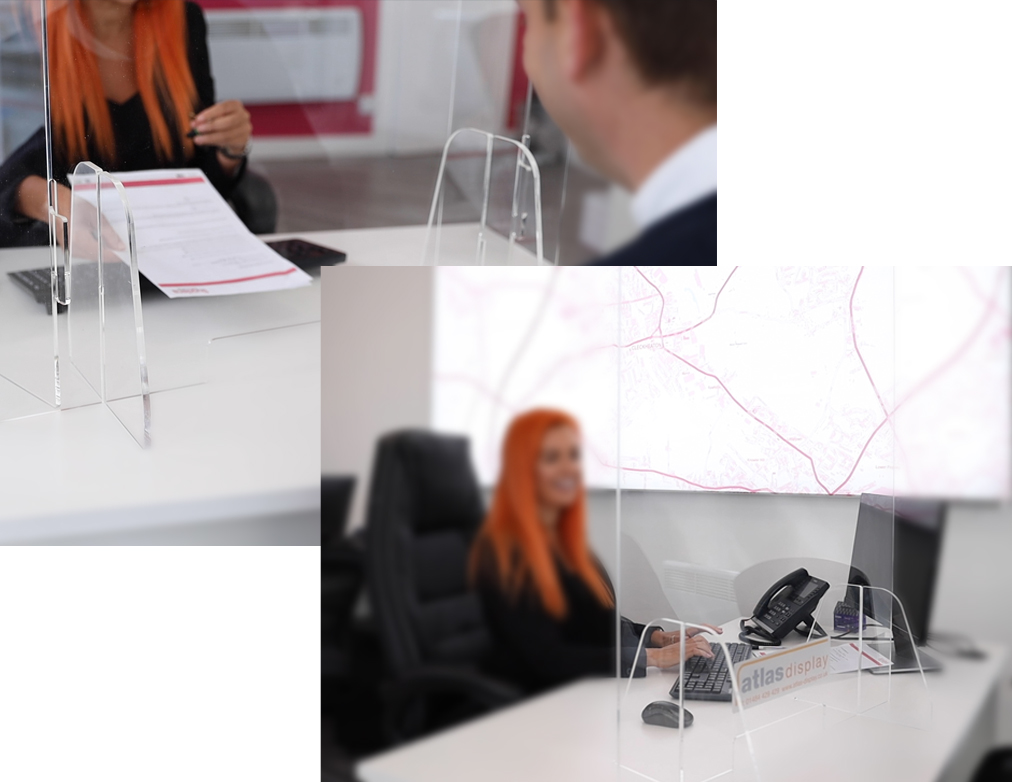 They come flat packed and can assembled on site by staff. Layouts that work for both staff and clients
Screens without the side panels.
Sneeze screen with side panels.
We offer a range of services designed to make your space reflect the personality of your business
Atlas Display understand that each business has its own requirements and therefore we pay great attention to getting to know our clients and their individual objectives.
Clients
Why Choose Atlas?
An uncomplicated, straightforward and hassle free process.
A full turnkey solution. We undertake all aspects, which are fully project managed from start to finish.
Any health & safety procedures, standards and codes of practice are followed accordingly.
Small-scale refurbishments to full shop fits, to meet any requirement and budget.
We will produce designs to suit your requirements, recommending and presenting concepts.
Value engineering. If a high end product or look is required within a small budget, we can reproduce at cost, making a low budget shop fit appear high end.